This webpage identifies the difference between a lawful termination and a wrongful termination in California. The goal of this page is to help everyday people understand the basics of California's wrongful discharge law. It is not a substitute for speaking with a wrongful termination lawyer, but it may help you understand the basics of CA employment law.
This page covers the following topics:
California's at-will employment doctrine
Exceptions to the at-will doctrine
Examples of public policy
What can you recover in a wrongful termination lawsuit?
Statute of limitations for wrongful discharge claims
Average verdicts and settlements in wrongful termination cases
How much does the lawyer cost?
Employees of public entities can't sue for wrongful termination
Consulting with a lawyer and the contingency fee
This educational video was made by an attorney Mr. Odell went to law school with. It gives a great overview of California law.
California At-Will Employment Doctrine
At its core, California employment law states that employees are "at-will," meaning they can be fired at any time for almost any reason. This law is captured in CA Labor Code § 2922. But this law does not give employers free will to terminate employees for whatever reason they want. Intuitively, most people know that one cannot be fired for any reason under the sun. There must be some limitations, right? Thankfully, there are.
Exceptions to the At-Will Doctrine
In 1980, the California Supreme Court created a clear exception to the at-will doctrine in the case of Tameny v. Atlantic Richfield. Tameny created the tort of wrongful discharge in California. It states an employer's traditional broad authority to discharge an at-will employee may be limited by statute or by considerations of public policy. While an at-will employee may be terminated for no reason, or for an arbitrary or irrational reason, there is no right to terminate an employee for an unlawful reason or a purpose that contravenes fundamental public policy. Obviously, this begs the question – what is public policy?
Public Policy Examples
A substantive element of a unlawful termination claim is that the employer's motivation for terminating the employee was a violation of public policy. The best way to explain what constitutes public policy is by example. The below examples have been established by case law or statute.
There are many more public policies than are listed above that fall under the broad umbrella of "wrongful termination." To find out if you have a case you should contact an employment lawyer. The attorney should ask you why you were fired to investigate whether or not California's employment laws were violated.
What Can You Recover if You're Wrongfully Terminated?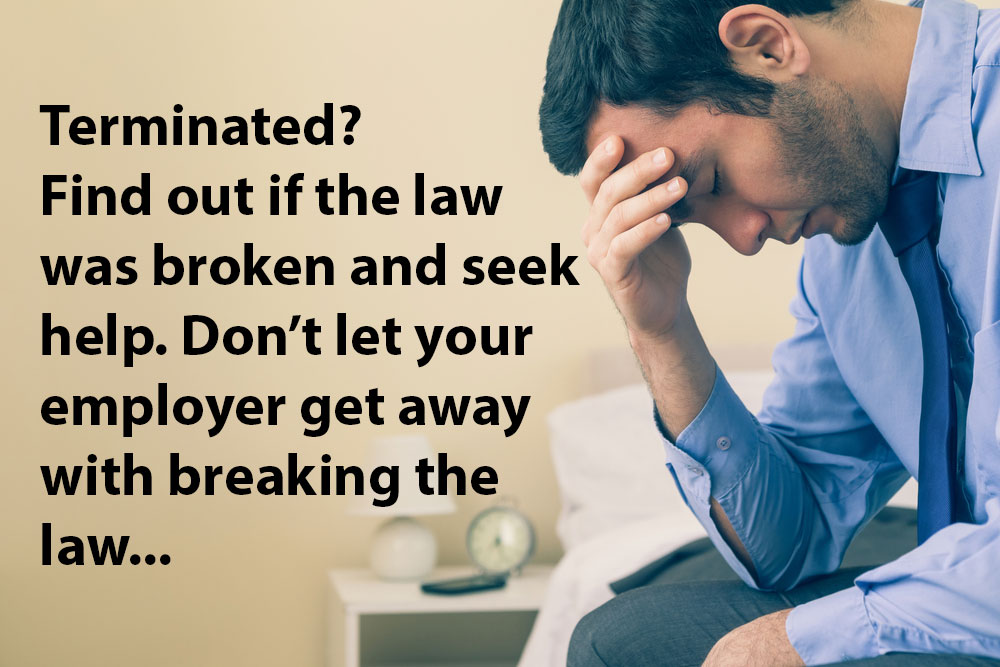 If an employee wins a wrongful termination lawsuit, he or she may recover three types of money damages: emotional distress, lost wages, and punitive damages.
Emotional distress damages in wrongful termination lawsuits is the laws attempt to compensate you for the pain and suffering caused by the termination. This is an imperfect and subjective process. Generally, it includes compensation for the anxiety, depression, uncertainty, pain, and mental suffering. Thus, for example, in a sexual harassment case, the employee may recover for symptoms such as migraines, vomiting, weight loss, sleeplessness, diarrhea, grinding teeth, crying spells, depression and loss of enjoyment of life. These "psychic" injuries do not have to be permanent. The law tries to compensate for past emotional distress and future emotional distress.
Lost wages, or economic damages, include your salary or hourly wage, lost employee benefits (bonuses, vacation benefits, contributions, and other miscellaneous benefits) or the equivalent value of those benefits. Therefore, if you were earning $65,000 per year but are wrongfully terminated and out of work for one full year, you would be able to recover $65,000 in lost wages. If you obtain a new job earning only $40,000, you would be able to recover the difference in value between the old job and the new job ($25,000) for the foreseeable future. The law tries to compensate for backpay (past lost economic damages) and frontpay (future economic losses).
Punitive damages in a wrongful termination case are extremely rare (only occurring in 7-10% of verdicts). Punitive damages are designed to punish the defendant and to deter others from similar conduct. In order to win such damages, you must show that the employer acted with oppression, fraud or malice. Not only that, but you must prove that the employer acted this way under a clear and convincing burden of proof. This is much harder to do than people realize.
You cannot recover attorney's fees in a solely wrongful termination case. You may be able to recover attorney's fees if you're lawyer also brings a claim in which attorney's fees are recoverable. Sometimes wrongful termination claims overlap with discrimination and harassment claims in which attorney's fees are recoverable.
Statute of Limitations for Unlawful Termination Claims
Cases of unlawful termination are subject to the two-year statute of limitations in California Code of Civil Procedure § 335.1. This cause of action accrues at the time of dismissal—which means the time of actual termination, rather than when the employee was notified of the termination. But in many employment cases there are multiple causes of action and each may have a separate statute of limitation. Therefore, it is not advisable to wait very long before seeking out an attorney.
Verdicts and Settlements in Wrongful Discharge Cases
What is the average settlement in a wrongful discharge case? Unfortunately, there is no published data on point. Most settlements are subject to strict confidentiality contractual provisions. It is very safe to say that in California the majority of wrongful termination lawsuits settle for less than $50,000. But if you have a case you cannot, and should not, expect a certain amount from your lawsuit. Every case is wildly different and settlement value varies tremendously depending on the thousands of variables in the case.
What about the average verdict in a wrongful discharge lawsuit? But UC Hastings did some research back in the 1990's that is extremely helpful. For the cases that went to trial, employees consistently win their trials between 47% and 57% of the time. When the plaintiff won, the median verdict was between $152,000 and $270,000. A Berkeley publication states that in public policy tort cases, employees won 61% of the time, with a median verdict of $340,500.
But again, if you have a case you cannot, and should not, expect to win a certain amount in trial. Every case and trial is different and verdict value depends on thousands of significant variables (including how good the trial lawyers are).
How Much Does a Wrongful Termination Lawyer Cost?
Wrongful discharge attorney's get paid via a contingency fee. That means the lawyer gets paid a percentage of what they recover in your case. The lawyer does not charge anything out of pocket. Wrongful termination lawyers also advance the case costs for you. They recover these costs from the settlement or verdict at the end of the case.
Employees of Public Entities Can't Sue for Wrongful Termination
Because a public entity is liable for its acts or omissions only as provided by statute (Government Code § 815(a)), a wrongful termination claim is not allowed against a public entity because it's a common law claim (derived from case law, not a statute).
Free Consultations & Contingency Fees
If you feel that your termination was unlawful, don't hesitate to contact a Los Angeles employment lawyer to receive a free consultation. Most employment lawyers who handle wrongful discharge cases are compensated with a contingency fee. That means they don't get paid unless they successfully recover money on your behalf. This office offers free consultations and only works on contingency fees.
Other Resources:
Footnotes
[1] Gnatt v. Sentry Insurance.
[2] CA Governmental Code § 12940(h); California Constitution Art I., Section 8; CA Government Code § 12920 specifically states, "the practice of discrimination because of race, color, religion, sex, gender, gender identity, gender expression, sexual orientation, marital status, national origin, ancestry, familial status, source of income, disability, or genetic information in housing accommodations is declared to be against public policy."
[3] Gould v. Maryland Sound Industries, Inc. & Labor Code § 201.
[4] Barbosa v. Impco Technologies, Inc. and Labor Code § 1199.
[5] Cabesuela v. Browning–Ferris Industries of California, Inc. & Labor Code § 6310.
[7] Nelson v. United Technologies;
[9] CA Labor Code § 230(b)
[12] CA Labor Code § 232.5